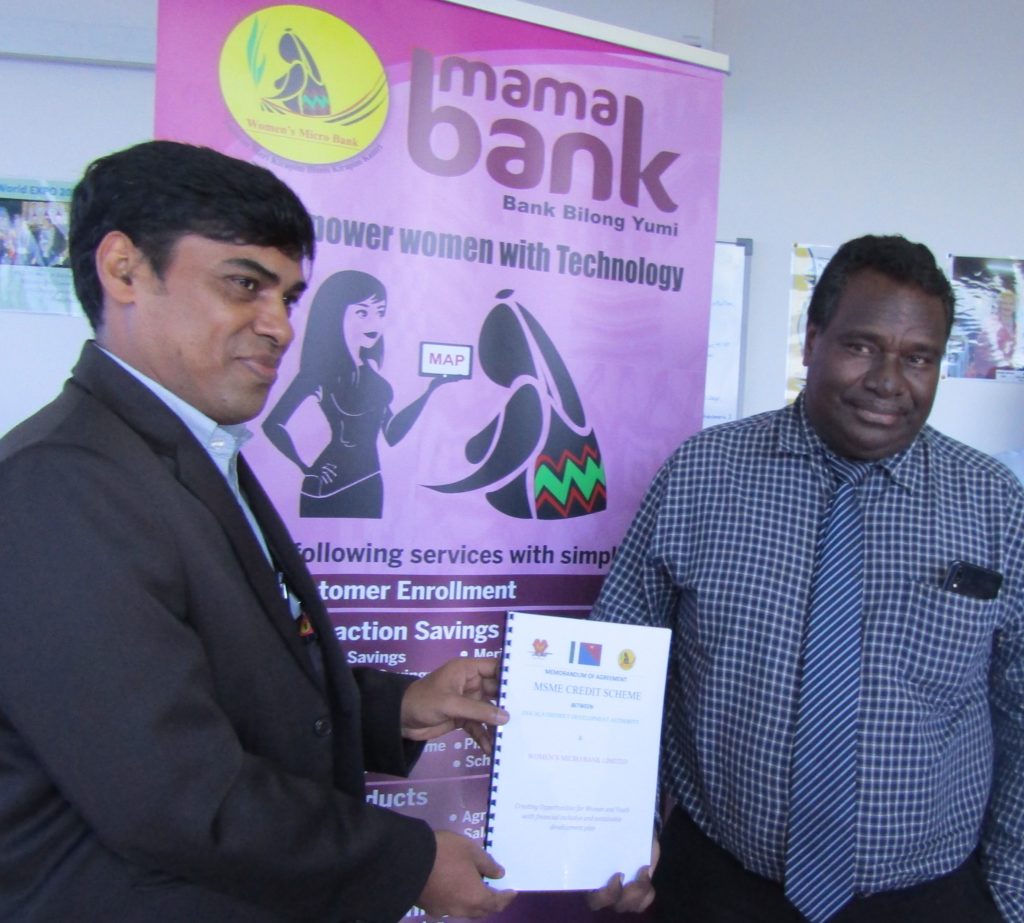 Women's Micro Bank Limited (WMB) has entered into Memorandum of Understanding (MoU) with Esa'ala District Development Authority (EDDA) to provide financial inclusion services for the district, enabling the local people to have easy access to financial products and services offered by Women's Micro Bank.
The Women's Micro Bank and Esa'ala DDA recognized that ordinary village based Women and Youth in the Esa'ala District of Milne Bay Province should have their own bank account through their own bank with affordable and adequate access to funds to enable them to play a more active role in the economic development and contribution of the District.
Further, this will create an avenue to adequate access to funds, to enable them to play a more active role in the economic development and contribution of the District. The Esa'ala DDA and Women's Micro Bank are prepared to also consider the provision of loan facilities to borrowers who are unable to provide security of a type or in an amount which Commercial Banks would in the normal course of its operations.
The EDDA and WMB have agreed to operate in Esa'ala in order serve the ordinary villagers endeavoring to participate in savings culture and in small-scale informal and agricultural activities.
Esa'ala DDA has committed an initial funding of K1,000, 000 for Women's Micro Bank to setup an Agency in Esa'ala, run financial literacy training for trainers through the women leaders, openbank account for the needy women and youth and supporting in access to finance to MSME sector in the district.
During the ceremony held at Women's Micro Bank Head Quarters at Port Moresby, the Chief Executive Officer (CEO) of Women's Micro Bank, Mr. Gunanidhi Das explained that the Women's Micro Bank is trying to implement the real microfinance concept in the country. WMB believes that any credit scheme should link to the performance to the income generating activities. If a customer is willing to improve her own economy and a bank help in access to finance then automatically nation's economy will developed. SME can be created and the Government's ambition of achieving 500,000 SME by 2030 will be fulfilled if MSME sector is taken care properly.
He thanked Member for Esa'ala District and Deputy Prime Minister, Hon. Davis Stevens to come onboard this agreement to help, support and extend financial inclusion services to Esa'ala people in Milne Bay Province. He emphasized that Women's Micro Bank Limited is the only licensed financial institution in Papua New Guinea with an explicit focus on women. Women's Micro Bank is the TRU TRU bank for its members and adhere to the slogan "SUPPORTIM MERI KIRAPIM BUSINES KIRAPIM KANTRI". He further emphasized that "When Micro Chip collaborate with Microfinance to uplift Micro Enterprise, the real Women Economic Empowerment will happen".
Recently WMB has come up with biometric enabled technology solutions where in all the customer's money is safe from fraudulent activities and urge all the customers to use this facility to imbibe the savings culture. He further explain that WMB always asked its customer to do Savings first and Savings should be first expenditure of Income not last. This has beared the fruits during COVID-19 emergency period and all the customers of WMB are happily using their savings money during lock down period.
During the ceremony, Honorable Deputy Prime Minister thanks Women's Micro Bank to come on board to help his district people for in building a savings culture by opening savings account for all women and their children. He further elaborated Esa'ala DDA is committed to develop the MSME sector in its district by helping all informal MSME and formal SME.
The money will be utilized for financial inclusion services such as training to the trainers, account opening of all women and their children, credit to MSME customers. He further elaborate that it is his dream to bring banking services to his people in his electorate and support them by putting money into their account rather putting money in their hand. He further congratulate Esa'ala DDA representative who were present over there and asked them to showcase this partnership as role model to whole country.
This partnership is unique in nature and timely in this emergency situation and thankful to Women's Micro Bank to ink this partnership amid COVID – 19. This will help resilience people of Esa'ala after Corona pandemic emergency situation over.