Hon. Mendani funds Women's Micro Bank with K2.5 Million to support MSME in Kerema District.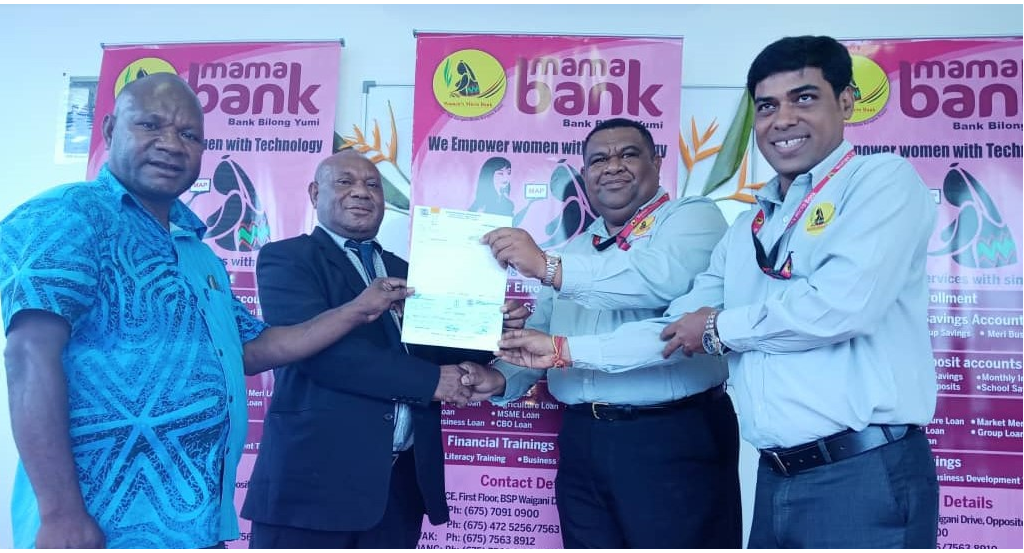 –2nd March, 2021
Port Moresby, Papua New Guinea – Women's Micro Bank Limited branded as MAMA BANK has received a total of K2.5 Million from the Kerema District Development Authority (KDDA) to provide credit facility in the district, enabling the local people to have easy access to credit and support the district's economic plans in empowering entrepreneurship in Kerema District.
The Women's Micro Bank and KDDA recognized that ordinary people in the Kerema District of Gulf Province should be equal partners in the district's economic development plans through access to financial services. They should have their own bank account with affordable and adequate access to credits to enable them to play a more active role in the economic development of themselves and contribution towards the district's economic development.
During the ceremony held at Mama Bank's Head Quarters last week in Port Moresby, the Member for Kerema Hon. Richard Mendani (MP) has announced that his DDA is committed to work with Women's Micro Bank to roll out the credit guarantee scheme. This scheme will be coordinated jointly by the KDDA and the Mama Bank project team. Mama Bank will now established its Agency called the "Mama-Bank Access Point" in Kerema District for the people's accessibility with the help of KDDA.
Upon the presentation, Hon. Mendani said that this will create an avenue for his people to adequately access to credit, to enable them to play a more active role in the economic development and contribution of the District. The KDDA and Mama Bank are prepared to also consider the provision of loan facilities to borrowers through their suppliers. These includes farmers and fishermen who are unable to provide security of a type or in an amount which banks would in the normal course of its operations. The KDDA and Mama Bank have agreed to operate under the scheme name of "Kerema District Credit Guarantee Scheme" in order to assist Women's Micro Bank to serve the ordinary villagers endeavoring to participate in MSME activities.
The CEO of MAMA BANK Mr. Gunanidhi Das explained that the Women's Micro Bank is trying to implement the real microfinance concept in the country. Mama Bank believes that any credit scheme should link to the performance to the income generating activities. If a customer is willing to improve her own economy and a bank help in access to finance then automatically nation's economy will developed. SME can be created and the Government's ambition of achieving 500,000 SME by 2030 will be fulfilled if MSME sector is taken care properly. He thanks Member for Kerema District Hon. Richard Mendani (MP) and the DDA Members for having that vision for Kerema district and commended him and the KDDA that they are taking the right move to economic freedom for their people. "We are happy to work together to help and support KDDA's ambitions for its District to extend inclusive financial inclusion services to Kerema people He challenged all the men, women, youths and children of the district to use this opportunity as the gateway to become economically independent and do away with free hand out mentality.
He emphasized that Women's Micro Bank Limited is the only licensed financial institution in Papua New Guinea with an explicit focus on women. This focus is due to women and men being positioned differently in the rural economy because of traditional gender dynamics. Men tend to produce crops for cash while most women are self-employed in an informal economy. Even all contribute in the family but money goes to men's pocket. We believe when money goes to the women's hand it reaches more to family welfare and guarantee higher utilization of total disposable income. Also we believe that women are the gateway to economic empowerment of the country. He further explain that MAMA BANK is the TRU TRU bank for its members and adhere to the slogan "SUPPORTIM MERI KIRAPIM BUSINES KIRAPIM KANTRI"
He further emphasized that Savings should be first expenditure of Income not last. He also request all the shareholders and customers to come and do banking with their own bank with innovative IBD products and simple loan products. Recently BANK has come up with biometric enabled technology solutions where in all the MAMA's money is safe from fraudulent activities and urge all the MAMA to register their finger prints as early as possible to safe guard their hard earn money.