Women's Micro Bank partners with Agro Dev Trade Ltd to Support Highlands Coffee Farmers.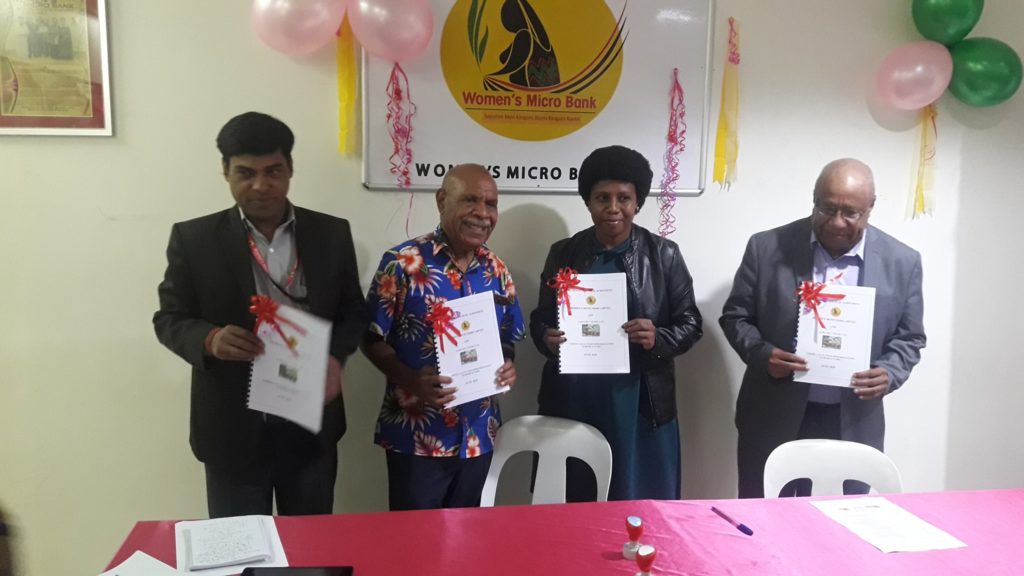 Women's Micro Bank Limited (WMB), branded as MAMA BANK has taken a step further to support coffee farmers in the highlands region through a Memorandum of Agreement signed with Agro Dev Trade Limited (ADT), enabling the coffee farmers to have easy access to financial services, particularly imbibing savings culture for their better future and access to credit facility offered by MAMA BANK to upscale their coffee farming activities. The signing was witnessed Vice Minister for Coffee and Member for Daulo Open Hon. Pongio Ghate, representative from World Bank, CIC, DAL, UNCDF (PFIP), CEFI and key management from ADT and WMB.

WMB and ADT recognize that ordinary rural farmers of the of the highlands region which covers Jiwaka, WHP, EHP, SHP, Enga and Hela should have affordable and adequate financial inclusion products and services such as demand driven savings product, term deposits, access to finance to enable them to play a more active role in the economic development and contribution of their provinces and country.

WMB and ADT are prepared to consider the provision of credit facilities to coffee growers who are unable to provide security of a type or in an amount which Commercial Banks would in the normal course of its operations, otherwise require. With this agreement, WMB and ADT will initiate and establish Coffee Value Chain Rehabilitation Scheme in order to assist the ordinary people endeavoring to participate more in to coffee production activities in a sustainable way. To begin with, WMB and ADT agreed to pilot the scheme in Dei district of Western Highland Province and in Kainatu district of Eastern Highland Province. After successful piloting, this scheme can be replicated in other part of the highlands region. Through this agreement ADT will act as an AGENT of WMB to facilitate financial inclusion product and services in their operating area through a cashless model.

During the ceremony held at WMB Head Office in Port Moresby, the chairman of WMB Mr Ricky Mitio highlighted the importance of financial education to the coffee farmers and both WMB with Agro Dev Trade Limited looks beyond the horizon by filling the gaps of overlooking agriculture commodities that contributes significantly in the nation's GDP from which constitute 80 percent of Papua New Guineans who survive through agriculture-based activities. "Coffee is one of the most important cash crops in Papua New Guinea, with export revenues consistently topping US$100 million per annum. Referencing back, the total coffee production for 2016 was nearly 1.2 million 60-kg bags (70,260 tonnes). Globally, PNG is ranked 18th in the world for coffee production for 2016/2017. Therefore, this agreement is very significant for the country as highlands region is the leading coffee producing region for PNG. Coffee is a sustainable product. Coffee is here and going to stay here. Proper management of income from coffee will give financial self-confidence and security to all farmers" said Mr. Mitio.

Managing Director of ADT, Mr. Jacob Taru, welcomed the move by Mama Bank as ADT have been trying to find ways to improve production to a sustainable level. "All the studies have been done" he said. "We know that the key to driving production growth for farmers' lies in with availability of capital which can only be achieved through a strong savings culture and equipment availability to increase the size of their farms, which obviously is the access to funds that banks can provide to support farmers. One of the main objectives of this agreement is to uplift the production of coffee by provision of appropriate and easily accessible savings and small loans to coffee farmers to improve existing small income generating agriculture activities. Coffee Farmers must see Coffee for what it is called Money Tree. Saving and reinvesting coffee money back to coffee is the only way to survive. Linking with a lead firm to go together targeting specialty coffee market is the goal. A win-win for all." Said Mr Taru.

The agreement encompassed the top-down institutional planning and bottom-up operational activity through ADT, creating a single framework with clear coordination and provision of inclusive financial product and services for coffee farmers, enabling them to demand driven savings product, access the credit facility to boost their farming activities and financial literacy training services offered by WMB.
The CEO of WMB Mr Gunanidhi Das on his closing remarks explained further that the Women's Micro Bank is trying to implement the real microfinance concept in the country. Empowering and building the financial capacity of Papua New Guinea farmers through group mechanism with demand driven savings product and easy access to credit facilities will see an Economy of Scale for Agri-Value Chain Businesses, resulting in a sound Savings Culture leading towards a greater impact in their lives in terms of financial independence so that every person can be able to make informed decisions in meeting their personal as well as their family's current and future needs. He further emphasized that the real economic empowerment of this country is possible through women economic empowerment. The agreement will leads to empower the women and their family in highlands region.

He thanked ADT to come onboard to allow a partnership to facilitate access to financial services that is very viable and important to their farmers. In acknowledging the ADT, the CEO of WMB advice all the farmers to form in small self-reliance groups or small farmer's producer group to help each other and become the catalyst for growth for their family and for the nation. Further imbibe a savings culture among Coffee growers and creating a reputable credit history is the aim of WMB.
He further emphasized that Savings should be the first Expenditure of Income not last. He also requested all the Farmers to come and do banking with their own bank with innovative savings products and simple loan products. Recently BANK has come up with biometric enabled technology solutions where in all the MAMA's money is safe from fraudulent activities and urge all the MAMA to register their finger prints as early as possible to safe guard their hard earn money.